i am drifting in a strange stupor, a numb head space. it feels like an out-of-body experience.
i touched down at SFO pre-dawn this morning, reeling from the emotions that came with seeing a childhood friend graduate from law school. i woke up grateful for the bit of sleep i could get, anxious about the work that awaited me. i checked my email, and found missives from various friends (thanks nat, branwyn, ryan) informing me that rory root had passed away yesterday. he was only 50. the news knocked the wind out of me. now, mentally, i'm like a horse with blinders on.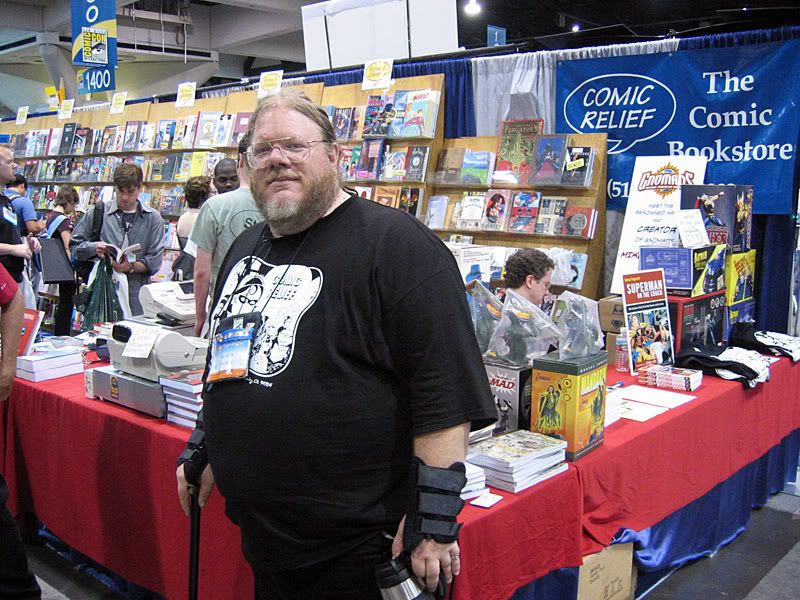 i can't concentrate. all i can think about are rory and the store.
comic relief was a fantastical refuge, a dreamy play land. when i first stumbled upon it in college, i felt as if somebody had answered all my wishes for THE perfect retreat. it alone bumped up the value of living in berkeley. i spent hours there, lost amongst the awesomeness, reverting back to my childhood days. i loved it so much that i had to work there, so i did. the store not only remained all those wonderful things to me, but it also became a home away from home.
comic relief was/is one of the best things that ever happened to me. it generously bestowed upon me a fun job, amazing talented friends, a way to get even closer to one of my lifelong loves, and most importantly, it delivered on creating vivid memories that still thrive in my mind.
if there was no rory, there would be no comic relief. in this startling sense, i was deeply affected by this singular character (flawed, quirky, but with a good heart). imagine the stirring impact his passion–and his dedicated, desire to share this passion–has had on countless others. it's a pretty special thing.
branwyn (CR alumna) says that the best thing folks can do now is patronize the store, and i wholeheartedly agree. it's a fragile, transitional stage. before people check out with their purchases, they should play with todd and give him a good backrub. he, of all people, will have to bear the brunt of this severe blow. tomorrow's new comic book day, so bring your wallets and a healthy appetite for visual storytelling. it's one way to celebrate the spirit of rory, the store, and comics.
ps – the first thing i thought of when i heard the news is rory's proclivity for packing hearty snacks for cons. early on, he found out i had a fondness for summer sausage and liverwurst. for subsequent cons, he'd always exclaim to me that he had packed these particular vittles in the cooler. also, he liked ginger soda a lot.
pps – landry's blog entry really nails what i suspect is a common, complex sentiment amongst CR employees, past and present.
the joy that is comics; this magic happens all the time in the best damn comic book store on earth